INSTANTLY TURN A NAME ON OR OFF
If a member requests to observe yahrzeit on a different date from their loved one's annual date, the best method is to program the change in advance using the "Alternate Display Date" procedure.
But if you need to immediately turn a name on or off, you can use the "Always/Never Display" buttons on the main page beside the individual's name (A=Always On, N=Never On).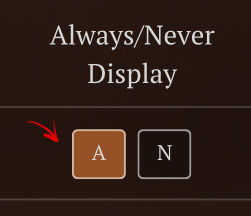 Keep in mind that this is an override setting that will remain active until you unclick the "Always" or "Never" button again. Unlike the "Alternate Display Date" option, it does not reset automatically. So you may want to make a note in the "notes" field as to why the name has been turned on or off, and how long it is to remain that way.
ALWAYS REMEMBER TO CLICK "SAVE CHANGES" BEFORE LEAVING THIS PAGE OR YOU WILL LOSE ANY DATA YOU ENTERED.
CHANGES WILL APPEAR ON THE TOUCHSCREEN THE FOLLOWING DAY. TO DISPLAY CHANGES INSTANTLY, USE THE INVISIBLE BUTTON PROCEDURE.